Rock music always meant a lot to me. I understand some people don't like rock music, if that's you then great, just hit the backspace button because this blog post isn't for you. I love rock music and always have. Some of my earliest childhood memories are of my Mom blaring "The Cranberries" and screaming the lyrics at the top of her lungs. I never had to learn to love rock music I just always did. In 1998 I bought my first CD, and it was Green Day's "Nimrod" album. I went through small phases exploring other genres of music, but they could never stick. By the time I was 15, I was going to a rock show at least once a month. Although I've grown up a lot, and no longer attend as many rock shows I must admit the music has stuck with me. Here are my top 10 favorite rock bands of my life listed in reverse order (with pics).
10. Audioslave: Chris Cornell has my favorite voice in the history of rock music. I remember the first time I ever heard Audioslave. They were playing on Fuse, and the music video was of them driving around in a car- I believe the song was "Show me How to Live." From that point on I was stuck on the guitars of Tom Morello and the former "Rage Against the Machine" gang and the voice of Cornell.
9. Beck: One of my favorite Beck moments is when he won best album for "Morning Phase" at the Grammy's and Kanye came out to show his lack of musical knowledge by questioning who Beck is… If he had been paying attention he would have realized Beck had been around for 2 decades at that point playing incredible music. Beck played like 13 musical instruments on "Morning Phase," I've never seen Kanye play one. "Loser" will be a song I turn up to full-blast til the day I die.
8. Mumford and Sons: This band came out right in the middle of my college years, and they blended the two genres I had gotten into-rock and Americana. "Old Crow Medicine Show" was always being played in my dorm room, and I sort of saw Mumford and Sons as the hipster version of their American counterpart. "The Cave," "White Blank Page," and "The Ghosts that We Knew," were all songs that had me sold.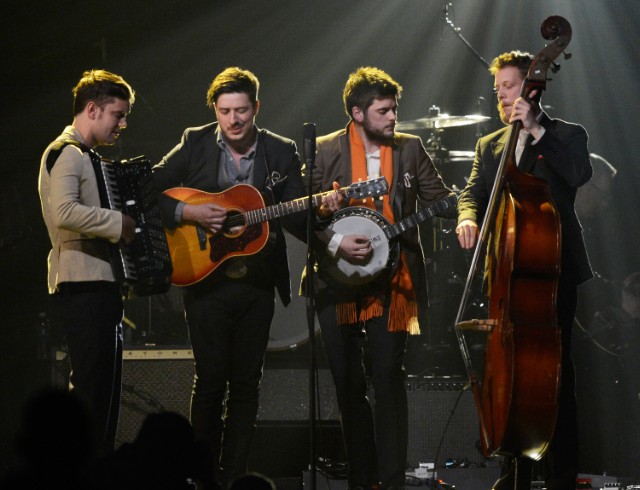 7. Manchester Orchestra: The year was 2011, and Manchester Orchestra had come out with an album called "Simple Math." I was working at a paper factory in Dayton which didn't really allow me to have a life. I played "Simple Math," on repeat the entire summer. Manchester Orchestra used to tour with some of my other favorite bands who will be included on this list, and I even got to see them live in Cleveland a few years back. They're still making great music. My favorite song by them has always been "Virgin."
6. 311: 90's rock has always been my favorite, and what can be more 90's than 311? Most kids these days don't even have a clue who 311 is; what a pity. "Beautiful Disaster," "All Mixed Up," "Come Original," and many others are all favorites. This band is just plain fun!
5. Foo Fighters: I've always been a Dave Grohl fan, because how could you not be? When I met my wife I realized she LOVED the Foo Fighters and part of being married is loving the things your spouse loves… So, I listened to Foo Fighters more and more. I can honestly say that now because of my wife I actually appreciate the Foo Fighters music all the way from 1996 until today. I've seen them play live twice in the past 3 years. And oh, by the way, can we finally get them to play the Super Bowl? It's time to bring Rock n' Roll back to the football field, and who better than Dave Grohl and Taylor Hawkins to do it?
4. Thrice: First time I heard this band play was the Fuse music video for "Artist in the Ambulance." Then, as they aged they toured with Manchester Orchestra and other favorites of mine, so they grew on me more and more. Then, they reached new heights with songs like "In Exile." Their lead singer actually left the band for a while to be the lead worship pastor at "Mars Hill" in Washington under Mark Driscoll. Things didn't quite work out with that, so now the band is back playing together. Their lyrics are some of the best you'll ever hear.
3. A Day to Remember: This needs explanation. Some people might see this band at number 3 and think "Why?" Well, because I was in High School when their first few albums came out, "Their name was treason," "For those who have heart," and "Homesick." Those albums were awesome! They were a mixture of metal and pop punk, which at the time really nobody else was doing besides maybe "Four Year Strong." I went to so many A Day To Remember concerts at that time that I can't even count them all. I would mosh at these shows for hours then go home smelling like a dumpster, but I loved it. My favorite performance by them was when I saw them play in an airplane hangar down in Louisville when I was in college. Best song by them in my opinion is probably "Mr. Highway's Thinking about the End."
2. Nirvana: Like I said, 90's rock is my favorite music, so of course Nirvana is one of my favorite bands. Kurt Cobain changed music for the following generations. Music today doesn't even know how much it owes to Kurt and Nirvana. I'll admit that Kurt lived a sad life, and his death has been well documented, however, his art was amazing. My favorite Nirvana song of all time is actually "You Know You're Right," but I mean they don't really have a bad song; plenty of weird ones, but no bad ones. I remember being a pre-teen and going to my public library to read books about Kurt- I even read his published diary! Plus, they gave us Dave Grohl.
Brand New: Again, this selection demands an explanation. Brand New has come under a lot of controversy over the past year and a half, and let me be clear, it is with good reason! Lead singer, Jesse Lacey, has had his fair share of deserved chastisement. I decided to list them here at number 1 anyways, not because I condone his behavior, but because I'm telling the truth about who has been the most influential and the favorite band of my life. I first hear Brand New in 2001 with the release of "Jude Law and a Semester Abroad," and anyone who knows me well will tell you I loved them ever since. Each of their albums matures and progresses at the same time I matured and progressed, and therefore, their lyrics and moods changed as I did. Their first album, "Your Favorite Weapon," was basically just some screaming emo record at the same time I was a screaming emo kid. Their second album, "Deja Entendu" was still emo, but it was the best the genre had to offer. Their third album turned a corner and became the most beautiful album I've ever heard; it's called "The Devil and God are Raging Inside Me." Their fourth album was basically a neo-grunge album called "Daisy." Then, they made us wait a whole 8 years for the release of their fifth and final album, "Science Fiction." This album was a masterpiece, but then the hard truths of Lacey's past came out and the band has been set aside necessarily. I appreciate what they've meant in my life, but I agree it is right for them to no longer play or be in the public eye.
Honorable Mention: Here are some other bands I've loved but didn't quite crack the top 10… Flogging Molly, Dropkick Murphy's, Iron & Wine, Senses Fail, and Green Day